Single Bend Ball Nose Tips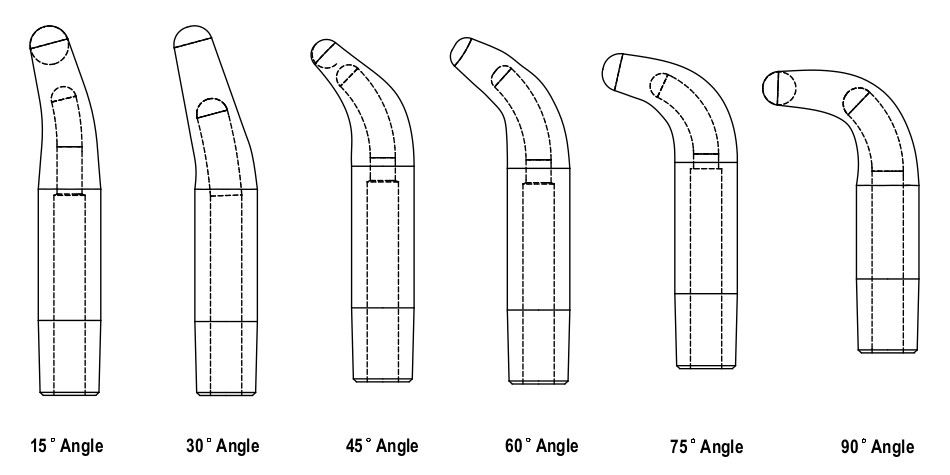 Single Bend Ball Nose Tips are an economic solution to weld in a tight area or hard to reach area such as a flange or corner. The Ball or Spherical nose design accommodates modest misalignment problems as contact with the workpiece can still be made on the radius during welding.
For spot welding, it is critical that the tips meet in a straight line manner to prevent expulsion, most single bend electrodes are used in conjunction with an Angled Electrode Adapter or Angled Offset Holder.
These tips are also designed for use with the following Universal Straight Adapters:
| Part | Description | RWMA Material Type | RWMA Taper [T] | Nose Type | Overall Length [A] | Outer Diameter [B] | Welding Face Dia. [C] | Offset [H] | Water Hole Dia. [E] | Unit of Measure | Bend Angle (Deg) [D] |
| --- | --- | --- | --- | --- | --- | --- | --- | --- | --- | --- | --- |
| 267-16-26015 | 16-26015 CMW | RWMA Class 2 - C18200 | 5RW | Ball | 3.68800 | 0.62500 | 3/16 Radius | 0.3750 | 0.31300 | IN | 15.0 |
| 267-16-26030 | 16-26030 CMW | RWMA Class 2 - C18200 | 5RW | Ball | 3.62500 | 0.62500 | 3/16 Radius | 0.5160 | 0.31300 | IN | 30.0 |
| 267-16-26045 | 16-26045 CMW | RWMA Class 2 - C18200 | 5RW | Ball | 3.50000 | 0.62500 | 3/16 Radius | 0.6720 | 0.31300 | IN | 45.0 |
| 267-16-26060 | 16-26060 CMW | RWMA Class 2 - C18200 | 5RW | Ball | 3.37500 | 0.62500 | 3/16 Radius | 0.8440 | 0.31300 | IN | 60.0 |
| 267-16-26075 | 16-26075 CMW | RWMA Class 2 - C18200 | 5RW | Ball | 3.10900 | 0.62500 | 3/16 Radius | 1.0310 | 0.31300 | IN | 75.0 |
| 267-16-26090 | 16-26090 CMW | RWMA Class 2 - C18200 | 5RW | Ball | 2.81300 | 0.62500 | 3/16 Radius | 1.2500 | 0.31300 | IN | 90.0 |