Stud Welding Electrodes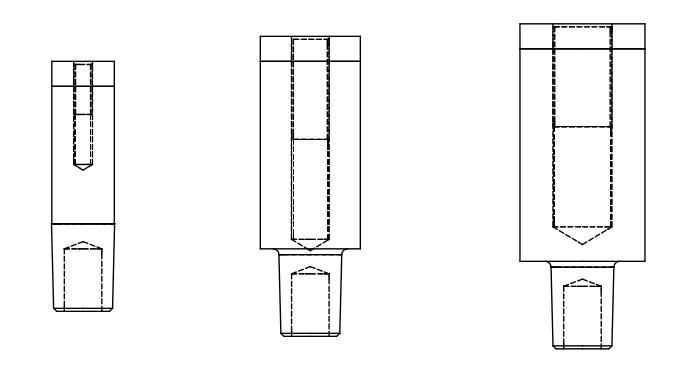 Stud Welding Electrodes are designed for projection welding studs or screws. The parts have an insulated sleeve that protects the threads being damaged by arching during the weld. The electrodes are available with sleeves of various depths to fit any application. The inside and outside of the sleeve is treated to 55HRC for wear resistance.
All parts have a 10W brazed face to withstand the higher forces of projection welding. The parts have a 5RW taper for use with standard electrode holders.
The Stud Welding Electrodes are compatiable with the Nut and Stud Welding Cooling Chamber.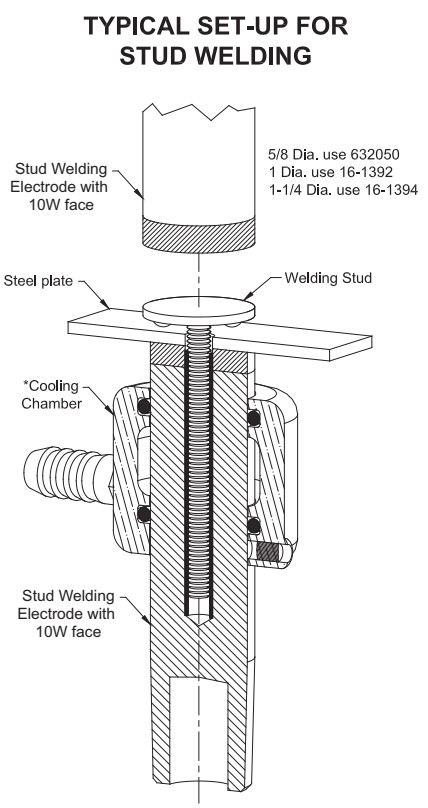 | Part | Description | Face Refractory Material | RWMA Material Type | Engagement to Holder [T] | Overall Length [A] | Weld Face Diameter [B] | Inside Diameter of Sleeve [K] | Length of Sleeve [U] | For Stud Size | Refractory Material Thickness [I] | Unit of Measure |
| --- | --- | --- | --- | --- | --- | --- | --- | --- | --- | --- | --- |
| 275-16-3726-4272 | 16-3726-4272 CMW | RWMA Class 11 - 10W | RWMA Class 2 - C18200 | 5RW | 3.25000 | 1.25 | 0.42700 | 2.000 | | 0.250 | IN |
| 275-16-3725-2771 | 16-3725-2771 CMW | RWMA Class 11 - 10W | RWMA Class 2 - C18200 | 5RW | 3.00000 | 1 | 0.27700 | 1.000 | | 0.250 | IN |
| 275-16-3725-2772 | 16-3725-2772 CMW | RWMA Class 11 - 10W | RWMA Class 2 - C18200 | 5RW | 3.00000 | 1 | 0.27700 | 2.000 | | 0.250 | IN |
| 275-16-3725-3171 | 16-3725-3171 CMW | RWMA Class 11 - 10W | RWMA Class 2 - C18200 | 5RW | 3.00000 | 1 | 0.31700 | 1.000 | 5/16 (8mm) | 0.250 | IN |
| 275-16-3725-3172 | 16-3725-3172 CMW | RWMA Class 11 - 10W | RWMA Class 2 - C18200 | 5RW | 3.00000 | 1 | 0.31700 | 2.000 | 5/16 (8mm) | 0.250 | IN |
| 275-16-3725-3391 | 16-3725-3391 CMW | RWMA Class 11 - 10W | RWMA Class 2 - C18200 | 5RW | 3.00000 | 1 | 0.33900 | 1.000 | | 0.250 | IN |
| 275-16-3725-3392 | 16-3725-3392 CMW | RWMA Class 11 - 10W | RWMA Class 2 - C18200 | 5RW | 3.00000 | 1 | 0.33900 | 2.000 | | 0.250 | IN |
| 275-16-3725-3651 | 16-3725-3651 CMW | RWMA Class 11 - 10W | RWMA Class 2 - C18200 | 5RW | 3.00000 | 1 | 0.36500 | 1.000 | | 0.250 | IN |
| 275-16-3725-3652 | 16-3725-3652 CMW | RWMA Class 11 - 10W | RWMA Class 2 - C18200 | 5RW | 3.00000 | 1 | 0.36500 | 2.000 | | 0.250 | IN |
| 275-16-3725-3801 | 16-3725-3801 CMW | RWMA Class 11 - 10W | RWMA Class 2 - C18200 | 5RW | 3.00000 | 1 | 0.38000 | 1.000 | 3/8 | 0.250 | IN |
| 275-16-3725-3802 | 16-3725-3802 CMW | RWMA Class 11 - 10W | RWMA Class 2 - C18200 | 5RW | 3.00000 | 1 | 0.38000 | 2.000 | 3/8 | 0.250 | IN |
| 275-16-3726-4011 | 16-3726-4011 CMW | RWMA Class 11 - 10W | RWMA Class 2 - C18200 | 5RW | 3.25000 | 1.25 | 0.40100 | 1.000 | | 0.250 | IN |
| 275-16-3726-4012 | 16-3726-4012 CMW | RWMA Class 11 - 10W | RWMA Class 2 - C18200 | 5RW | 3.25000 | 1.25 | 0.40100 | 2.000 | | 0.250 | IN |
| 275-16-3725-2542 | 16-3725-2542 CMW | RWMA Class 11 - 10W | RWMA Class 2 - C18200 | 5RW | 3.00000 | 1 | 0.25400 | 1.500 | 1/4 | 0.250 | IN |
| 275-16-3726-4441 | 16-3726-4441 CMW | RWMA Class 11 - 10W | RWMA Class 2 - C18200 | 5RW | 3.25000 | 1.25 | 0.44400 | 1.000 | 7/16 | 0.250 | IN |
| 275-16-3726-4442 | 16-3726-4442 CMW | RWMA Class 11 - 10W | RWMA Class 2 - C18200 | 5RW | 3.25000 | 1.25 | 0.44400 | 2.000 | 7/16 | 0.250 | IN |
| 275-16-3726-5021 | 16-3726-5021 CMW | RWMA Class 11 - 10W | RWMA Class 2 - C18200 | 5RW | 3.25000 | 1.25 | 0.50200 | 1.000 | 1/2 | 0.250 | IN |
| 275-16-3726-5022 | 16-3726-5022 CMW | RWMA Class 11 - 10W | RWMA Class 2 - C18200 | 5RW | 3.25000 | 1.25 | 0.50200 | 2.000 | 1/2 | 0.250 | IN |
| 275-16-3726-5521 | 16-3726-5521 CMW | RWMA Class 11 - 10W | RWMA Class 2 - C18200 | 5RW | 3.25000 | 1.25 | 0.55200 | 1.000 | | 0.250 | IN |
| 275-16-3726-5522 | 16-3726-5522 CMW | RWMA Class 11 - 10W | RWMA Class 2 - C18200 | 5RW | 3.25000 | 1.25 | 0.55200 | 2.000 | | 0.250 | IN |
| 275-16-3726-6301 | 16-3726-6301 CMW | RWMA Class 11 - 10W | RWMA Class 2 - C18200 | 5RW | 3.25000 | 1.25 | 0.63000 | 1.000 | 5/8 | 0.250 | IN |
| 275-16-3726-6302 | 16-3726-6302 CMW | RWMA Class 11 - 10W | RWMA Class 2 - C18200 | 5RW | 3.25000 | 1.25 | 0.63000 | 2.000 | 5/8 | 0.250 | IN |
| 275-16-3726-6761 | 16-3726-6761 CMW | RWMA Class 11 - 10W | RWMA Class 2 - C18200 | 5RW | 3.25000 | 1.25 | 0.67600 | 1.000 | | 0.250 | IN |
| 275-16-3726-6762 | 16-3726-6762 CMW | RWMA Class 11 - 10W | RWMA Class 2 - C18200 | 5RW | 3.25000 | 1.25 | 0.67600 | 2.000 | | 0.250 | IN |
| 275-16-3726-8011 | 16-3726-8011 CMW | RWMA Class 11 - 10W | RWMA Class 2 - C18200 | 5RW | 3.25000 | 1.25 | 0.80100 | 1.000 | | 0.250 | IN |
| 275-16-3726-8012 | 16-3726-8012 CMW | RWMA Class 11 - 10W | RWMA Class 2 - C18200 | 5RW | 3.25000 | 1.25 | 0.80100 | 2.000 | | 0.250 | IN |
| 275-16-3724-1572 | 16-3724-1572 CMW | RWMA Class 11 - 10W | RWMA Class 2 - C18200 | 5RW | 2.50000 | 0.625 | 0.15700 | 1.000 | | 0.250 | IN |
| 275-16-3724-1162 | 16-3724-1162 CMW | RWMA Class 11 - 10W | RWMA Class 2 - C18200 | 5RW | 2.50000 | 0.625 | 0.11600 | 0.750 | #4 | 0.250 | IN |
| 275-16-3724-1163 | 16-3724-1163 CMW | RWMA Class 11 - 10W | RWMA Class 2 - C18200 | 5RW | 2.50000 | 0.625 | 0.11600 | 1.125 | #4 | 0.250 | IN |
| 275-16-3724-1321 | 16-3724-1321 CMW | RWMA Class 11 - 10W | RWMA Class 2 - C18200 | 5RW | 2.50000 | 0.625 | 0.13200 | 0.375 | #5 | 0.250 | IN |
| 275-16-3724-1322 | 16-3724-1322 CMW | RWMA Class 11 - 10W | RWMA Class 2 - C18200 | 5RW | 2.50000 | 0.625 | 0.13200 | 0.750 | #5 | 0.250 | IN |
| 275-16-3724-1323 | 16-3724-1323 CMW | RWMA Class 11 - 10W | RWMA Class 2 - C18200 | 5RW | 2.50000 | 0.625 | 0.13200 | 1.125 | #5 | 0.250 | IN |
| 275-16-3724-1401 | 16-3724-1401 CMW | RWMA Class 11 - 10W | RWMA Class 2 - C18200 | 5RW | 2.50000 | 0.625 | 0.14000 | 0.500 | #6 | 0.250 | IN |
| 275-16-3724-1402 | 16-3724-1402 CMW | RWMA Class 11 - 10W | RWMA Class 2 - C18200 | 5RW | 2.50000 | 0.625 | 0.14000 | 1.000 | #6 | 0.250 | IN |
| 275-16-3724-1403 | 16-3724-1403 CMW | RWMA Class 11 - 10W | RWMA Class 2 - C18200 | 5RW | 2.50000 | 0.625 | 0.14000 | 1.500 | #6 | 0.250 | IN |
| 275-16-3724-1501 | 16-3724-1501 CMW | RWMA Class 11 - 10W | RWMA Class 2 - C18200 | 5RW | 2.50000 | 0.625 | 0.15000 | 0.500 | | 0.250 | IN |
| 275-16-3724-1502 | 16-3724-1502 CMW | RWMA Class 11 - 10W | RWMA Class 2 - C18200 | 5RW | 2.50000 | 0.625 | 0.15000 | 1.000 | | 0.250 | IN |
| 275-16-3724-1503 | 16-3724-1503 CMW | RWMA Class 11 - 10W | RWMA Class 2 - C18200 | 5RW | 2.50000 | 0.625 | 0.15000 | 1.500 | | 0.250 | IN |
| 275-16-3724-1571 | 16-3724-1571 CMW | RWMA Class 11 - 10W | RWMA Class 2 - C18200 | 5RW | 2.50000 | 0.625 | 0.15700 | 0.500 | | 0.250 | IN |
| 275-16-3724-1161 | 16-3724-1161 CMW | RWMA Class 11 - 10W | RWMA Class 2 - C18200 | 5RW | 2.50000 | 0.625 | 0.11600 | 0.375 | #4 | 0.250 | IN |
| 275-16-3724-1573 | 16-3724-1573 CMW | RWMA Class 11 - 10W | RWMA Class 2 - C18200 | 5RW | 2.50000 | 0.625 | 0.15700 | 1.500 | | 0.250 | IN |
| 275-16-3724-1691 | 16-3724-1691 CMW | RWMA Class 11 - 10W | RWMA Class 2 - C18200 | 5RW | 2.50000 | 0.625 | 0.16900 | 0.500 | #8 | 0.250 | IN |
| 275-16-3724-1692 | 16-3724-1692 CMW | RWMA Class 11 - 10W | RWMA Class 2 - C18200 | 5RW | 2.50000 | 0.625 | 0.16900 | 1.000 | #8 | 0.250 | IN |
| 275-16-3724-1693 | 16-3724-1693 CMW | RWMA Class 11 - 10W | RWMA Class 2 - C18200 | 5RW | 2.50000 | 0.625 | 0.16900 | 1.500 | #8 | 0.250 | IN |
| 275-16-3724-1911 | 16-3724-1911 CMW | RWMA Class 11 - 10W | RWMA Class 2 - C18200 | 5RW | 2.50000 | 0.625 | 0.19100 | 0.750 | #10 | 0.250 | IN |
| 275-16-3724-1912 | 16-3724-1912 CMW | RWMA Class 11 - 10W | RWMA Class 2 - C18200 | 5RW | 2.50000 | 0.625 | 0.19100 | 1.500 | #10 | 0.250 | IN |
| 275-16-3724-2201 | 16-3724-2201 CMW | RWMA Class 11 - 10W | RWMA Class 2 - C18200 | 5RW | 2.50000 | 0.625 | 0.22000 | 0.750 | #12 | 0.250 | IN |
| 275-16-3724-2202 | 16-3724-2202 CMW | RWMA Class 11 - 10W | RWMA Class 2 - C18200 | 5RW | 2.50000 | 0.625 | 0.22000 | 1.500 | #12 | 0.250 | IN |
| 275-16-3724-2541 | 16-3724-2541 CMW | RWMA Class 11 - 10W | RWMA Class 2 - C18200 | 5RW | 2.50000 | 0.625 | 0.25400 | 0.750 | 1/4 | 0.250 | IN |
| 275-16-3724-2542 | 16-3724-2542 CMW | RWMA Class 11 - 10W | RWMA Class 2 - C18200 | 5RW | 2.50000 | 0.625 | 0.25400 | 1.500 | 1/4 | 0.250 | IN |
| 275-16-3725-2541 | 16-3725-2541 CMW | RWMA Class 11 - 10W | RWMA Class 2 - C18200 | 5RW | 3.00000 | 1 | 0.25400 | 0.750 | 1/4 | 0.250 | IN |