Standard Double Bend Electrode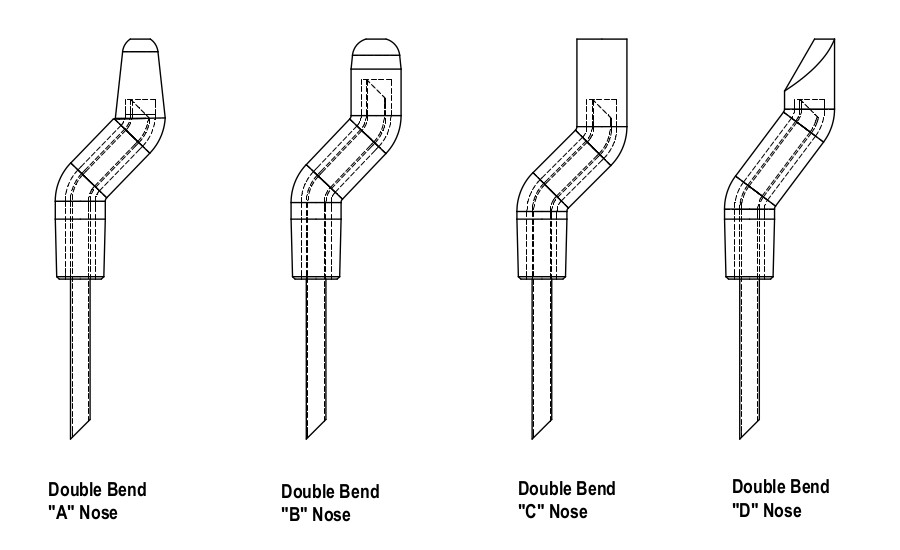 Standard Double Bend Electrodes are an economic solution to weld in a tight area or hard to reach area such as a flange or corner. This part has water cooling all the way to the nose which may enable them outlast cast or forged tips with a similar geometry.
Water tubes are included in Standard Double Bend Electrodes. The "Z" suffix denotes the part is sold without a tube.
If the product is not found in the grid below, Double Bend Electrodes can be made to order based on the numbering scheme below.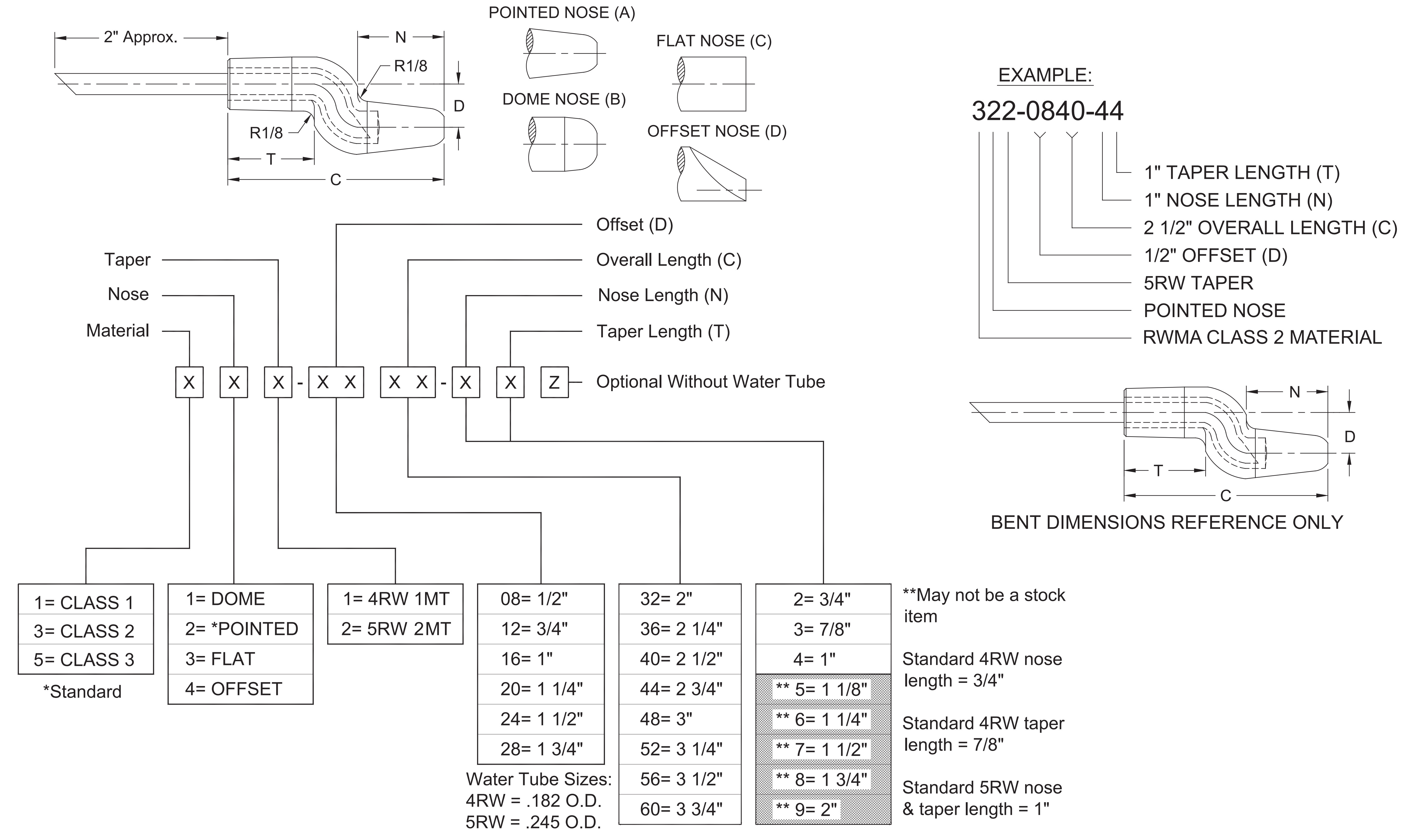 | Part | Description | RWMA Material Type | RWMA Taper [T] | Nose Type | Overall Length [A] | Outer Diameter [B] | Welding Face Dia. [C] | Offset [H] | Water Hole Dia. [E] | Taper to Bend Length [O] | Bend to Nose Length [N] | Unit of Measure | Tube |
| --- | --- | --- | --- | --- | --- | --- | --- | --- | --- | --- | --- | --- | --- |
| 267-322-2052-44 | 322-2052-44 CMW | RWMA Class 2 - C18200 | 5RW | A | 3.25000 | 0.62500 | 0.25 | 1.2500 | 0.37500 | 1.0000 | 1.0000 | IN | Yes |
| 267-322-1248-44 | 322-1248-44 CMW | RWMA Class 2 - C18200 | 5RW | A | 3.00000 | 0.62500 | 0.25 | 0.7500 | 0.37500 | 1.0000 | 1.0000 | IN | Yes |
| 267-322-1256-94 | 322-1256-94 CMW | RWMA Class 2 - C18200 | 5RW | A | 3.50000 | 0.62500 | 0.25 | 0.7500 | 0.37500 | 1.0000 | 2.0000 | IN | Yes |
| 267-322-1644-44 | 322-1644-44 CMW | RWMA Class 2 - C18200 | 5RW | A | 2.75000 | 0.62500 | 0.25 | 1.0000 | 0.37500 | 1.0000 | 1.0000 | IN | Yes |
| 267-322-1648-44 | 322-1648-44 CMW | RWMA Class 2 - C18200 | 5RW | A | 3.00000 | 0.62500 | 0.25 | 1.0000 | 0.37500 | 1.0000 | 1.0000 | IN | Yes |
| 267-322-1656-44 | 322-1656-44 CMW | RWMA Class 2 - C18200 | 5RW | A | 3.50000 | 0.62500 | 0.25 | 1.0000 | 0.37500 | 1.0000 | 1.0000 | IN | Yes |
| 267-322-1656-84 | 322-1656-84 CMW | RWMA Class 2 - C18200 | 5RW | A | 3.50000 | 0.62500 | 0.25 | 1.0000 | 0.37500 | 1.0000 | 1.7500 | IN | Yes |
| 267-322-1660-48 | 322-1660-48 CMW | RWMA Class 2 - C18200 | 5RW | A | 3.75000 | 0.62500 | 0.25 | 1.0000 | 0.37500 | 1.7500 | 1.0000 | IN | Yes |
| 267-322-1660-94 | 322-1660-94 CMW | RWMA Class 2 - C18200 | 5RW | A | 3.75000 | 0.62500 | 0.25 | 1.0000 | 0.37500 | 1.0000 | 2.0000 | IN | Yes |
| 267-322-2044-44 | 322-2044-44 CMW | RWMA Class 2 - C18200 | 5RW | A | 2.75000 | 0.62500 | 0.25 | 1.2500 | 0.37500 | 1.0000 | 1.0000 | IN | Yes |
| 267-322-1244-44 | 322-1244-44 CMW | RWMA Class 2 - C18200 | 5RW | A | 2.75000 | 0.62500 | 0.25 | 0.7500 | 0.37500 | 1.0000 | 1.0000 | IN | Yes |
| 267-322-2056-44 | 322-2056-44 CMW | RWMA Class 2 - C18200 | 5RW | A | 3.50000 | 0.62500 | 0.25 | 1.2500 | 0.37500 | 1.0000 | 1.0000 | IN | Yes |
| 267-322-2056-74 | 322-2056-74 CMW | RWMA Class 2 - C18200 | 5RW | A | 3.50000 | 0.62500 | 0.25 | 1.2500 | 0.37500 | 1.0000 | 1.5000 | IN | Yes |
| 267-322-2056-84 | 322-2056-84 CMW | RWMA Class 2 - C18200 | 5RW | A | 3.50000 | 0.62500 | 0.25 | 1.2500 | 0.37500 | 1.0000 | 1.7500 | IN | Yes |
| 267-322-2444-44 | 322-2444-44 CMW | RWMA Class 2 - C18200 | 5RW | A | 2.75000 | 0.62500 | 0.25 | 1.5000 | 0.37500 | 1.0000 | 1.0000 | IN | Yes |
| 267-322-2448-64 | 322-2448-64 CMW | RWMA Class 2 - C18200 | 5RW | A | 3.00000 | 0.62500 | 0.25 | 1.5000 | 0.37500 | 1.0000 | 1.2500 | IN | Yes |
| 267-322-2452-74 | 322-2452-74 CMW | RWMA Class 2 - C18200 | 5RW | A | 3.25000 | 0.62500 | 0.25 | 1.5000 | 0.37500 | 1.0000 | 1.5000 | IN | Yes |
| 267-322-2844-44 | 322-2844-44 CMW | RWMA Class 2 - C18200 | 5RW | A | 2.75000 | 0.62500 | 0.25 | 1.7500 | 0.37500 | 1.0000 | 1.0000 | IN | Yes |
| 267-322-2848-64 | 322-2848-64 CMW | RWMA Class 2 - C18200 | 5RW | A | 3.00000 | 0.62500 | 0.25 | 1.7500 | 0.37500 | 1.0000 | 1.2500 | IN | Yes |
| 267-332-2848-64 | 332-2848-64 CMW | RWMA Class 2 - C18200 | 5RW | C | 3.00000 | 0.62500 | 0.625 | 1.7500 | 0.37500 | 1.0000 | 1.2500 | IN | Yes |
| 267-321-1656-23 | 321-1656-23 CMW | RWMA Class 2 - C18200 | 4RW | A | 3.50000 | 0.48200 | 0.188 | 1.0000 | 0.28100 | 0.8750 | 0.7500 | IN | Yes |
| 267-321-0840-23 | 321-0840-23 CMW | RWMA Class 2 - C18200 | 4RW | A | 2.50000 | 0.48200 | 0.188 | 0.5000 | 0.28100 | 0.8750 | 0.7500 | IN | Yes |
| 267-321-0852-93 | 321-0852-93 CMW | RWMA Class 2 - C18200 | 4RW | A | 3.25000 | 0.48200 | 0.188 | 0.5000 | 0.28100 | 0.8750 | 2.0000 | IN | Yes |
| 267-321-1232-23 | 321-1232-23 CMW | RWMA Class 2 - C18200 | 4RW | A | 2.00000 | 0.48200 | 0.188 | 0.7500 | 0.28100 | 0.8750 | 0.7500 | IN | Yes |
| 267-321-1240-23 | 321-1240-23 CMW | RWMA Class 2 - C18200 | 4RW | A | 2.50000 | 0.48200 | 0.188 | 0.7500 | 0.28100 | 0.8750 | 0.7500 | IN | Yes |
| 267-321-1256-93 | 321-1256-93 CMW | RWMA Class 2 - C18200 | 4RW | A | 3.50000 | 0.48200 | 0.188 | 0.7500 | 0.28100 | 0.8750 | 2.0000 | IN | Yes |
| 267-321-1636-23 | 321-1636-23 CMW | RWMA Class 2 - C18200 | 4RW | A | 2.25000 | 0.48200 | 0.188 | 1.0000 | 0.28100 | 0.8750 | 0.7500 | IN | Yes |
| 267-321-1644-23 | 321-1644-23 CMW | RWMA Class 2 - C18200 | 4RW | A | 2.75000 | 0.48200 | 0.188 | 1.0000 | 0.28100 | 0.8750 | 0.7500 | IN | Yes |
| 267-321-1648-83 | 321-1648-83 CMW | RWMA Class 2 - C18200 | 4RW | A | 3.00000 | 0.48200 | 0.188 | 1.0000 | 0.28100 | 0.8750 | 1.7500 | IN | Yes |
| 267-321-1652-83 | 321-1652-83 CMW | RWMA Class 2 - C18200 | 4RW | A | 3.25000 | 0.48200 | 0.188 | 1.0000 | 0.28100 | 0.8750 | 1.7500 | IN | Yes |
| 267-321-0832-23 | 321-0832-23 CMW | RWMA Class 2 - C18200 | 4RW | A | 2.00000 | 0.48200 | 0.188 | 0.5000 | 0.28100 | 0.8750 | 0.7500 | IN | Yes |
| 267-321-2040-23 | 321-2040-23 CMW | RWMA Class 2 - C18200 | 4RW | A | 2.50000 | 0.48200 | 0.188 | 1.2500 | 0.28100 | 0.8750 | 0.7500 | IN | Yes |
| 267-321-2048-23 | 321-2048-23 CMW | RWMA Class 2 - C18200 | 4RW | A | 3.00000 | 0.48200 | 0.188 | 1.2500 | 0.28100 | 0.8750 | 0.7500 | IN | Yes |
| 267-321-2048-73 | 321-2048-73 CMW | RWMA Class 2 - C18200 | 4RW | A | 3.00000 | 0.48200 | 0.188 | 1.2500 | 0.28100 | 0.8750 | 1.5000 | IN | Yes |
| 267-322-0840-44 | 322-0840-44 CMW | RWMA Class 2 - C18200 | 5RW | A | 2.50000 | 0.62500 | 0.25 | 0.5000 | 0.37500 | 1.0000 | 1.0000 | IN | Yes |
| 267-322-0844-44 | 322-0844-44 CMW | RWMA Class 2 - C18200 | 5RW | A | 2.75000 | 0.62500 | 0.25 | 0.5000 | 0.37500 | 1.0000 | 1.0000 | IN | Yes |
| 267-322-0852-44 | 322-0852-44 CMW | RWMA Class 2 - C18200 | 5RW | A | 3.25000 | 0.62500 | 0.25 | 0.5000 | 0.37500 | 1.0000 | 1.0000 | IN | Yes |
| 267-322-0856-94 | 322-0856-94 CMW | RWMA Class 2 - C18200 | 5RW | A | 3.50000 | 0.62500 | 0.25 | 0.5000 | 0.37500 | 1.0000 | 2.0000 | IN | Yes |
| 267-322-1240-44 | 322-1240-44 CMW | RWMA Class 2 - C18200 | 5RW | A | 2.50000 | 0.62500 | 0.25 | 0.7500 | 0.37500 | 1.0000 | 1.0000 | IN | Yes |