Cooling Chamber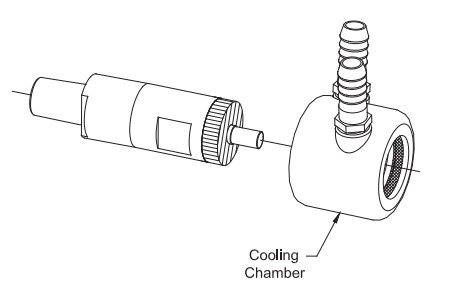 To maximize the life of the tooling, the CMW Nut and Stud Welding Electrodes are designed to work with the Cooling Chamber. The Cooling Chamber which is installed on the outside diameter of the electrode. It brings cooling water directly to the electrode.
Internal O-Rings seal the water and prevent leaking. The Cooling Chamber is locked in place with a set screw.
The system works with Chameleon Max-Life Electrodes and Standard Nut and Stud Welding electrodes.
| Part | Description | Material | For Electrode Diameter [X] | Overall Length [A] | Outside Diameter [B] | Unit of Measure | O-ring Included |
| --- | --- | --- | --- | --- | --- | --- | --- |
| 286-18-1340 | 18-1340 CMW | Aluminum | 0.625 | 1.50000 | 1.25000 | IN | Yes |
| 286-18-1342 | 18-1342 CMW | Aluminum | 1 | 1.50000 | 1.75000 | IN | Yes |
| 286-18-1343 | 18-1343 CMW | Aluminum | 1.25 | 1.87500 | 2.00000 | IN | Yes |